Harry Styles' latest film My Policeman and the Daniel Craig sequel Glass Onion: A Knives Out Mystery will have early screenings across the UK as part of this year's London Film Festival.
My Policeman is set in the 1950s and Styles plays a police officer who's married to a school teacher and who begins an affair with a male museum curator.
Glass Onion is a follow-up to 2019's Oscar nominated murder mystery Knives Out, with Daniel Craig returning as detective Benoit Blanc.
Showcasing UK talent is at the heart of the 12-day event, according to the LFF's Artistic Director Tricia Tuttle, who says that "there are big British stories throughout every part of the festival."
Other films that are being made available for screening before their official release around the country during LFF will be Adam Driver movie White Noise, Cannes Palme d'Or winner Triangle of Sadness and The Banshees of Inisherin – director Martin McDonagh's first film since 2018's Oscar-winning Three Billboards Outside Ebbing Missouri.
The cities taking part in the programme are Belfast, Birmingham, Bristol, Cardiff, Edinburgh, Glasgow, Manchester, Newcastle upon Tyne, Nottingham and Sheffield.
As in 2021, the Festival will be centred on London's South Bank, with major screenings taking place at the Royal Festival Hall and BFI Southbank. Other venues including the Odeon Luxe West End will also host screenings.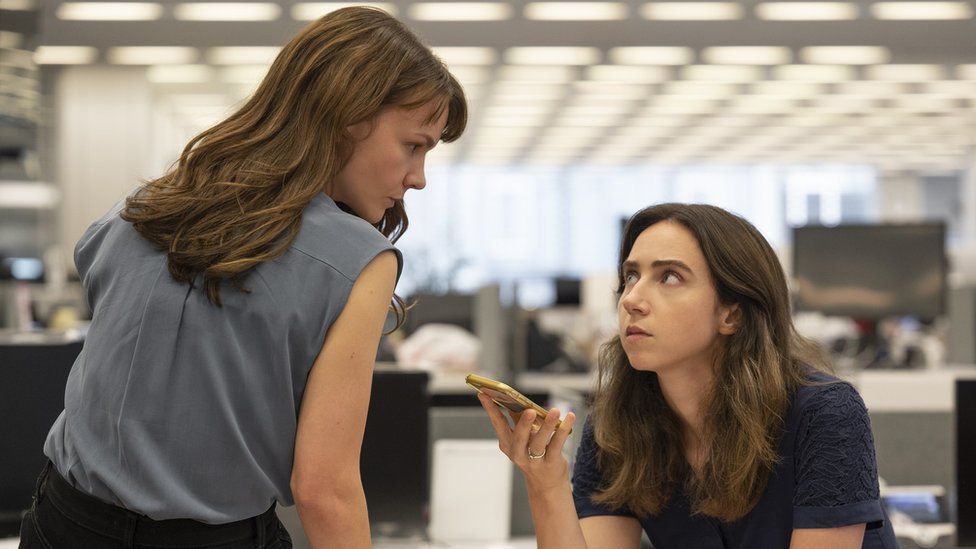 Highlights among the 164 films being shown include the European premiere of She Said, which tells the story of New York Times journalists Jodi Kantor and Megan Twomey's investigation into Harvey Weinstein, which helped the spread of the #MeToo movement.
Director Sam Mendes' Empire of Light is about a small town cinema during the 80s starring Olivia Colman and Colin Firth, and The Whale stars Brendan Fraser as an obese father attempting to reconnect with his daughter.
Other awards contenders being screened include Bardo, The Son, Allelujah and Women Talking.
The festival will open with the world premiere of Matilda The Musical, starring Emma Thompson as Miss Trunchbull and Alisha Weir as Matilda.
The 12-day event will close with the European Premiere of Glass Onion: A Knives Out Mystery, which Craig is expected to attend. .
On the red carpet
Organisers say Harry Styles is currently not expected to attend the premiere of My Policeman on 15 October due to his music tour commitments.
As well as film, the festival also showcases TV, and will feature world premiere screenings of Mammals, a new comedy drama starring James Corden, and A Spy Among Friends, starring Damian Lewis and Guy Pearce about the 1963 exposure of Kim Philby as a Soviet Spy.
In terms of diversity, 41% of this year's programme comes from female and non-binary directors/creators, with 34% made by ethnically diverse directors/creators.